Jasmina Križaj, Simon Wehrli, Daniel Gisler
NATURE POETRY
slovenian premiere dance performance | Slovenia, Switzerland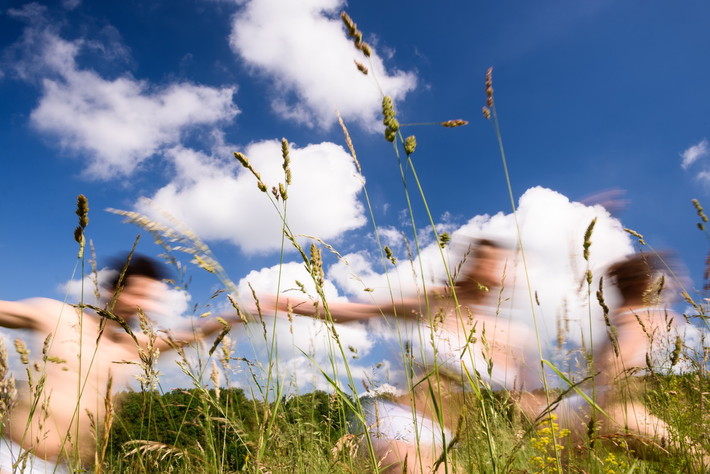 Nature Poetry invites the opposites to dance: nature and culture. Or just: nature and poetry. Equipped with inexhaustible zeal, choreographers Jasmina Križaj and Simon Wehrli jumped into the bushes and pulled in also musician Daniel Gisler. They make up movement rhymes, sing catchy tunes to bewitching synthesizer sounds and recite their own poems. Nature Poetry celebrates the coming together of stage and audience, creating a world that just is and has nothing to do.
Created and performed by: Jasmina Križaj, Simon Wehrli, Daniel Gisler
Concept and choreography: Jasmina Križaj, Simon Wehrli
Dramaturgy: Robert Steijn
Light design and set: sonda 5 in collaboration with Križaj / Wehrli / Gisler
Costumes: Daniel Gisler, Simon Wehrli, Jasmina Križaj
Production: lil (life is life)
Co-production: Theater am Gleis Winterthur, TanzPlan Ost, Plesna izba Maribor – Platforma sodobnega plesa, Tanzhaus Zurich, Grand Studio Bruselj, TanzRaum Herisau
Supported by: Ministrstvo za kulturo RS, Mestna občina Maribor, TanzPlan Ost, Ernst Göhner Foundation
Jasmina Križaj
Jasmina Križaj graduated from choreography at the Amsterdam University of the Arts. Her work has been presented at many festivals at home and abroad. Her piece Zebra in the Hair Saloon received the award for best creation at the ACT Festival in Bilbao (2006). In 2010, she was selected to participate in the project 50 days of Flying Low & Passing through Costa Rica with David Zambrano. Now she is part of 50collectiVe, which has thus far performed in Europe and North and South Americas. In 2013, she was granted the DanceWEB scholarship in the frame of ImpulzTanz festival in Vienna (mentor Ivo Dimchev). In the period 2011-14, Jasmina was part of the European project Modul Dance, in the frame of which she has created performances The Very Delicious Piece and The Very Boring Piece in collaboration with Portuguese artist Cristina P. Leitao (CJ collaboration).
Jasmina has just finished her maternity leave and is in the process for a new creation, Nature Poetry, in collaboration with Simon Wehrli and Daniel Gisler.
Simon Wehrli
Simon Wehrli (1983, Switzerland) studied at Scuola Teatro Dimitri (Verscio, CH) and at the Trinity Laban (London, UK). He works as a dancer, actor, and musician in variety of projects in Europe and the USA. He is also the co-founder of the movement-theatre group called Collettivo Spettatori and of the dance improvisation project 50collectiVe. In 2010, he was selected to participate in a project by David Zambrano 50 Days of Flying Low and Passing through Costa Rica. In 2013, he created his first solo Greatest Hits, which premiered in Tanzhaus Zürich. Since then, he works also as choreographer. His works are False Entries, How To be Clairvoyant, Wireless... He is currently collaborating with Slovene artist Jasmina Križaj and Swiss musician Daniel Gisler on their project Nature Poetry.
Daniel Gisler
Daniel Gisler (1981, Winterthur - Switzerland) is a pianist, co-founder of a well-known Swiss pop group My Name Is George (Swisstop Award, Austrian Newcomer award), and a member of currently the most successful Swiss band Hecht (Swiss Music Awards 2013 and 2018). Daniel is active as a studio musician and also spends a lot of time touring (Switzerland and abroad). His references include: Michael von der Heide, My Heart Belongs to Cecilia Winter, Pixie Paris, Ein Gescheiteter (performance: Florian Toberer and Michael Barengo).